Episodes
Monday Nov 22, 2021
Monday Nov 22, 2021
Interview with Betsy Frank who led research at MTV and Time Inc at times when both were facing major industry disruption.  Betsy's career is characterized by her constantly stepping into lead roles in new industries (from advertising to network - then from TV to print), always navigating the tension between centralized and decentralized approaches to the research function, and always characterized by major industry disruption (at MTV with the dawn of digital and at Time Inc with the rise of mobile and tablets).  An interview you won't want to miss.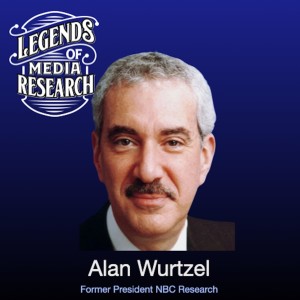 Monday Nov 15, 2021
Monday Nov 15, 2021
Interview with former President of NBC Research, Alan Wurtzel.  Alan discusses his years at both ABC and NBC including his landmark Olympics research, TAMI cross-platform measurement initiative, NBC lab, and broadcast standards and practices.  Alan is another member of the billion dollar club, researchers who added at least a billion dollars in value to their company.  Listeners will also be fascinated to hear how he came to lead long-form news and how he was once considered the successor to Bog Iger.  An interview you won't want to miss... with a true media research legend!
Friday Oct 22, 2021
Friday Oct 22, 2021
Interview with media research legend, Artie Bulgrin, who was head of research at ESPN for over two decades.  Includes great stories about how research contributed to the creation of ESPN original content in 2001, Artie's role in driving the Disney Media & Advertising Lab (subsequently becoming MediaScience), Project Blue Print (a cross-platform measurement solution years ahead of its time) and great insights on research leadership.  A GREAT start to the new podcast series...